From Monkey Mia and Jervis Bay to the wild outback of Katherine and the NSW far South Coast, discover the best camping spots in Australia.
Go snorkelling and whale watching at Monkey Mia, WA
The experience: Snorkel, Swim & Whale Watch
The location: Monkey Mia, WA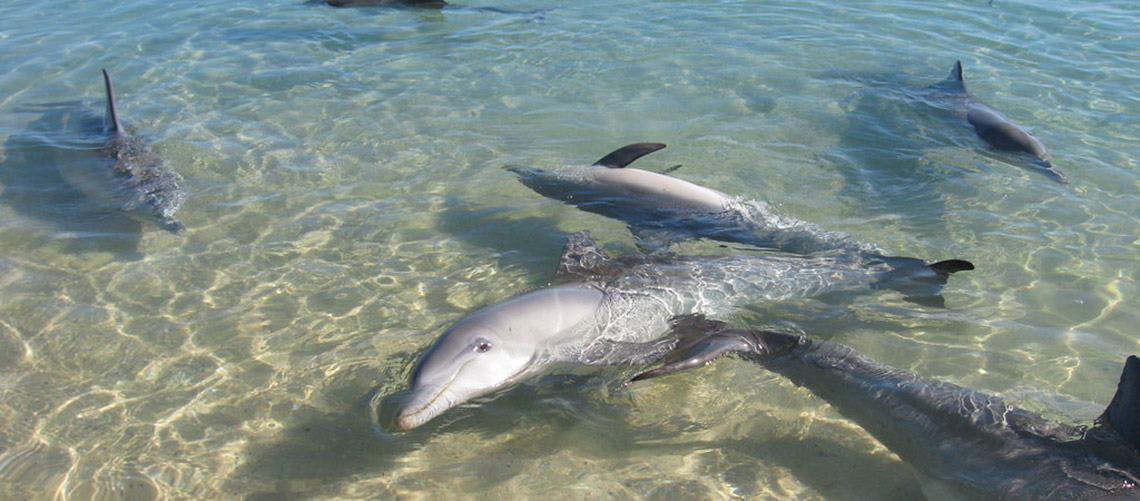 Why go: Despite its name, Monkey Mia is actually best known for its bottlenose dolphins. Every day for the past 50 years, the shoreline at Monkey Mia – 900km north of Perth – has been visited by a colony of visiting dolphins, making it one of the best and most reliable places for dolphin interaction in the world. With part of the region in the Shark Bay Marine Park and World Heritage Site, its dolphins are wild, and their interactions with humans monitored.
While they are the stars, Monkey Mia's dolphins aren't the only reason to come here. Exploring the region with your head under water, you'll see turtles, whales, prawns, scallops, sea snakes, fish and sharks, communities of coral and sponges. The site's Information Centre is also worth a visit to learn more about the local marine wildlife.
Where to stay: Close to all the attractions is the Monkey Mia Dolphin Resort, where you can begin the day with dolphin watching and end it with a camel ride along the beach. All caravan sites have electricity and water, with some situated right on the beachfront.
How to get there: There are flights from major Australian cities to Perth. From there, it's a 1hr 45m flight to Monkey Mia.
Experience untouched nature in Jervis Bay, NSW
The experience: Camp by the Beach
The location: Jervis Bay, NSW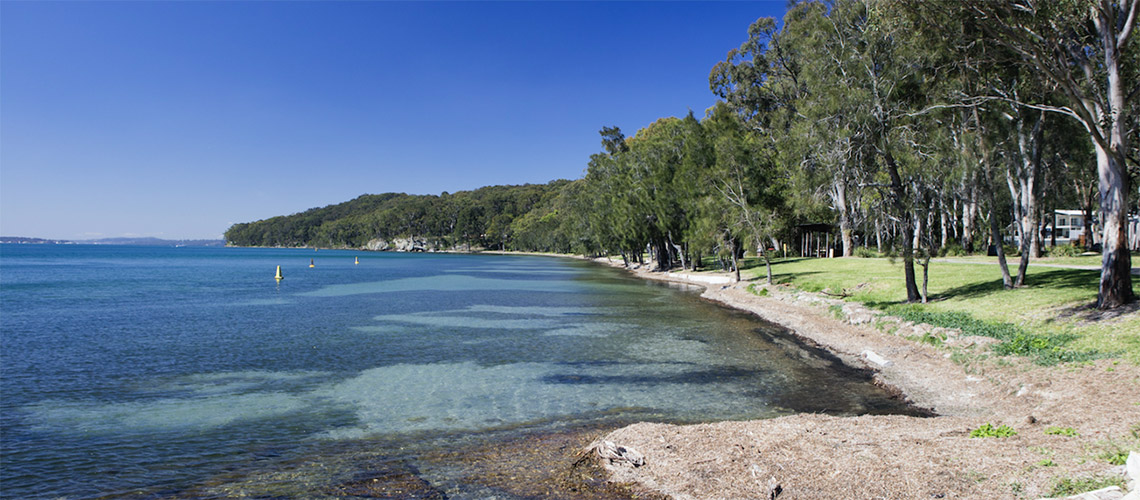 Why go: Its beaches are known for having some of the whitest sands in the world, and its crystal-clear waters attract dolphins, little penguins, fur seals and migrating whales – Jervis bay may well be the ultimate spot to set up camp. It's also the perfect base for hiking, with easy walks to lighthouses as well as longer treks through Booderee National Park or Jervis Bay National Park, home to kangaroos and wallabies and with an active Aboriginal cultural program, especially during school holidays.
Where to stay: At the southern end of Jervis Bay in Booderee National Park is the Greenpatch camping area and Murrays Beach, where you can slip into the water for a snorkel. Rent an RV for a long weekend using Camplify (NRMA Members get $50 credit) and set up by the water.
How to get there: There are daily direct flights from all major Australian cities to Sydney and Canberra. From either city, it's a three-hour drive to Jervis Bay.
Go 4WD in Katherine, NT
The experience: 4WD Driving
The location: Katherine, NT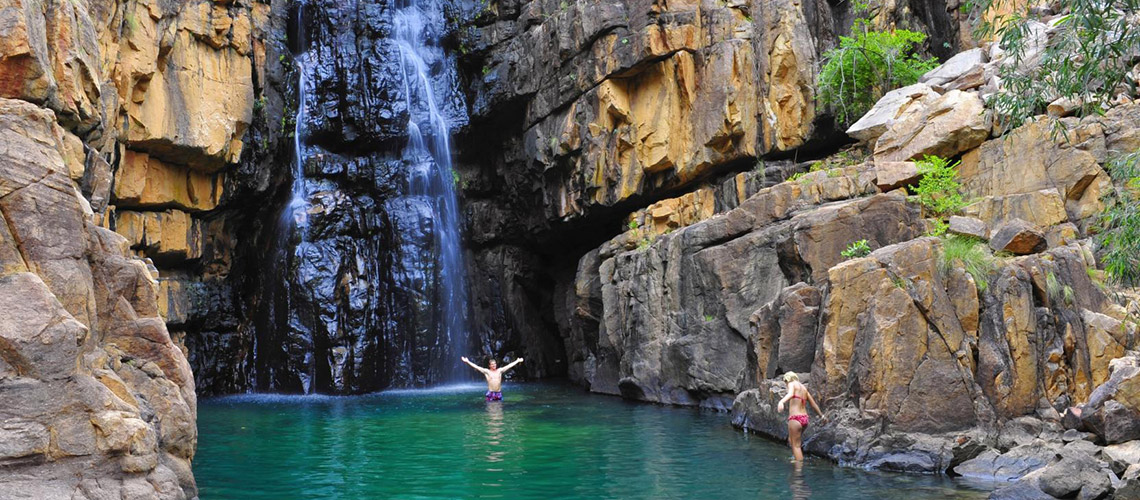 Why go: Around 320 kilometres south-east of Darwin, Katherine is the gateway to some of Australia's wildest country. Journey east towards the Gulf of Carpentaria to discover an unspoilt landscape and one of the Territory's best remote fishing destinations: Borroloola. Get off the main road and you'll discover picturesque gorges and rivers including Poppy's Pools, secluded thermal waterholes. The water has a high mineral content, which makes it a good place for a therapeutic soak.
Where to stay: The Lorella Springs Wilderness Park in Borroloola is a 4,000-square-kilometre outback cattle station surrounded by the Limmen National Park and Aboriginal land. The homestead camping area is located right on the Lorella hot thermal spring.
How to get there: There are flights from major capital cities to Katherine, via Darwin. Rent a 4WD through SIXT (Members get 15% off the best rate of the day) when you arrive and explore the wilderness in comfort.
Explore the National Parks at Merimbula on the NSW Sapphire Coast
The experience: Kitesurf & Paddleboard
The location: Merimbula, NSW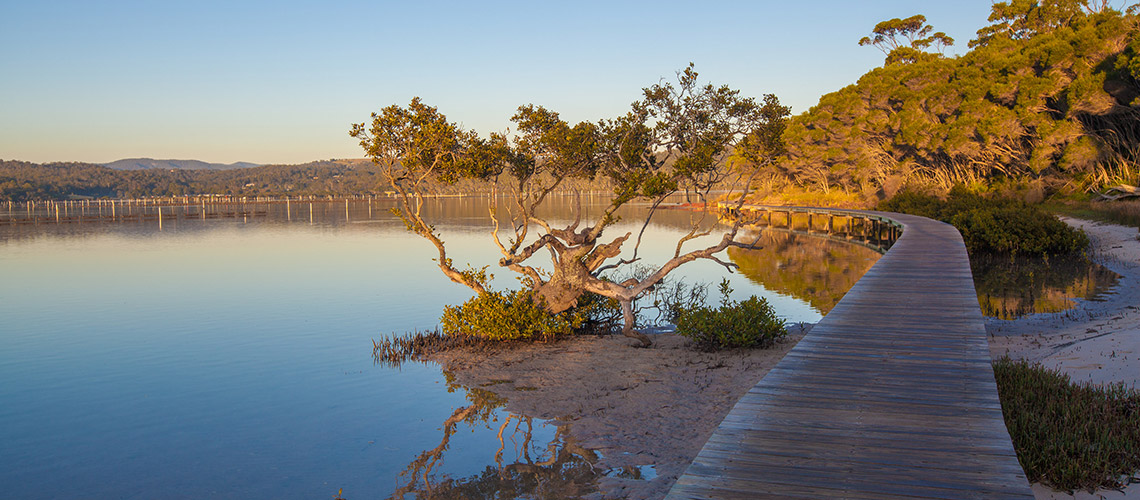 Why go: Close to some of Australia's most significant national parks on the NSW Sapphire Coast, Merimbula's waters are always busy with surfing, kite-surfing, wave-sailing, snorkelling and stand-up paddle-boarding. Merimbula Main Beach stretches three kilometres with a sandbank at the northern end creating an easy break for surfers. A scenic stroll can be enjoyed along the Merimbula Boardwalk, which skirts the northern shores of Merimbula Lake. The beautiful 3.5km route leads over the water and mangrove beds, under eucalypt canopies and past Merimbula's Sydney Rock Oyster farms.
Where to stay: Merimbula Beach Holiday Park has a large range of modern self-contained accommodation options available, but the best vantage of the ocean is from a tent in one of the park's camping spots. Powered and unpowered sites are available and Members can get 10% off any available villa or site.
How to get there: There are daily flights from Sydney and Melbourne to Merimbula.